Consulting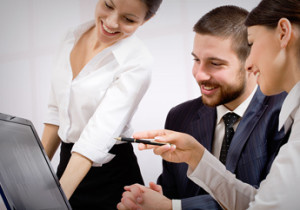 Your Viability – What is the most important aspect of your business' presence in the marketplace and its future sustainable growth?  It's your corporate identity and it should bring to mind a positive image as do some of the more familiar names such as Ford, FedEx, UPS, Coca Cola, Pepsi, and any of the more famous companies today.  If done right, not only will your corporate identity become your image, it will build a powerful brand by which you're known.  White Buck Media offers custom solutions that will help you establish, improve and maintain your corporate image.  We work with you to fully understand your requirements and then propose a solution encompassing all aspects of your needs.
Online Marketing – Companies have many options for communicating with prospective customers.  Not only has the Internet become the primary medium for reaching potential clients anywhere across the globe, it is quite often the first, second, last, and most important place people visit when making a decision to buy.  If your not on the internet and/or don't have a quality appearance, chances are you've missed an opportunity to close a sale.  Our team helps clients receive qualified leads through their web site and measure the results of your campaign.  You can rely on White Buck Media to help you interpret and understand the internet while maintaining consistency through all your marketing messages.
E-Commerce – Electronic commerce, often referred to as simply e-commerce, is business that is conducted over the Internet and may use any combination of applications that rely on the Internet. Applications such as e-mail, instant messaging, shopping carts, web services, UDDI, FTP, and EDI, among others.  Electronic commerce can be between two businesses transmitting funds, goods, services and/or data or between a business and a customer.  White Buck Media specializes in the many technologies required to safely conduct online business.
Specialized Services – We are well rounded! Knowledgeable in all phases of product and process development, White Buck Media has a highly qualified network of IT professionals that can find solutions to every problem.  We take pride and passion in solving problems others can't.  If you have special needs, giving us a call could very well be the solution to your challenging requirements.   Contact Us for more information!